cheyenne Stromantrag
Our individual software cheyenne-stromantrag is a registration form, in this example, for new customers of our reference customer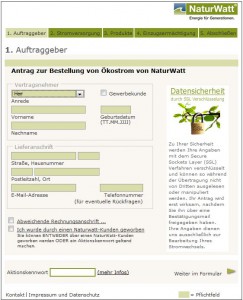 Naturwatt GmbH. The registration form is one of our modular in-house developments and can be adapted to many needs, both in design and in all functions.
This registration form has the following functionalities:
easy to use online application for all customer groups
filling out an application without prior registrationprice calculator with product selection
link to cheyenne-bonussystem by entering action keywords or customer-to-customer advertising actions
All common plausibility checks, such as zip code location, IBAN, mail domain of the customer available etc.
Highest data security, through self-hosted server
Integration of all common socialmedia networks (Facebook, Twitter & Co)
Possibility to integrate the application via iframe into your presence
Possibility of integrating the price calculator via iframe into your internet presence
Compliance with all statutory data protection guidelines, double opt-in for confirmation of the request
Adaptation of the design to your CI
Provision of the application route as an APP
Evaluation and maintenance options in the backend cheyenne-stromantrag
Manual entry of paper applications, correction of applications received via the application route, mass import option
Very comprehensive reporting:

Number of applications
Number of applications by sales partner, date, region, previous supplier, etc.
Evaluation of sales promotions
Commission evaluation

Product and tariff maintenance by postal code and network operator
Tariff maintenance with runtimes, prices, general terms and conditions, sub. Tariff types etc.
Product management with price guarantee, power origin, power quality, print chains for later billing system
Discount management for the product (online discount or direct debit discount)
Different products per sales partner
As each registration step and the necessary reporting is individualized to the needs of the company in question, we will be happy to present the product to your company without obligation, please contact us!